katara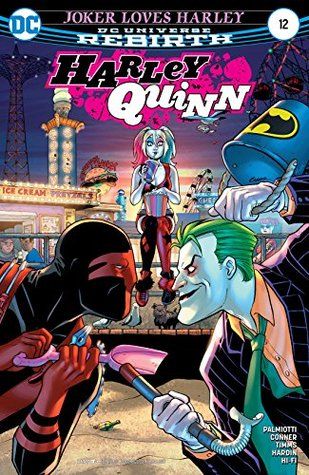 Title:
Harley Quinn (2016-) #12
Author:
Amanda Conner, Jimmy Palmiotti, Alex Sinclair (Illustrator), John Timms (Illustrator)
Format:
Epub
Rating:
3.5/5
Status:
Finished
Reading Date:
January 20, 2017
Book Summary:
"JOKER LOVES HARLEY" part two! Don't ship Joker and Harley too hard! In this issue, the "reformed" Joker deceives Harley, and when that happens, she goes for his throat!
Book Review:
Real Rating: 3.5
This issue picks up where the last one leaves off at with Joker about to be confronted by Red Tool.
Red Tool knows that a leopard does not change their spots overnight and Joker is no exception to this rule. He wants to know why Joker is back in Harley's life and of course, the Joker is more than willing to push buttons of those he likes to piss off.
And he pushes the right one that sends him flying into a crowd of beachgoers.
Where is Harley all this time?
Apparently it seems that before Red Tool left to meet Joker, he messed with Harley's alarm clock. So that when she woke up, she would think it was not time yet and allow her to go back to sleep. Her dreams are filled with the Joker. Are these the what ifs for her? Or were these things that actually had happened - like the many kids with Joker and a life that seemed idyllic?
When Harley finally does awake, she realizes that someone has messed with her alarm clock and she races to get ready to meet Joker.
Once she is out at the designated area, she finds Red Tool beating Joker into the a pulp and she is not happy at all with him. She stops the fight and sends Red Tool away telling him he is probation and knows that the next time they meet again he won't be giving her any sort of brilliant apologies.
As for Joker, he reveals that he helped Harley a bit back by killing Bertha. He goes to tell her that he has changed but Harley isn't buying it and reminds him of the warning she gave him before they parted ways sometime ago.
For my opinion now:
I am not sure what it was about this issue but it seemed rushed a bit. I loved the story and how it ended but the meeting between Harley and Joker didn't feel right. I don't know what it is about it but I felt there was something missing in it.
The comic itself continues to keep my interest simply because I see Harley is growing on her own. She is not quite a hero but she is not a villain anymore either. An anti-hero maybe? I know she is trying to make up for all the things she has done horribly wrong in her life and perhaps she is on this path for a reason. She does, however, deserve a chance to finish things between herself and Joker but this does not seem to be either the right time to do so or she has not quite finished with him yet. Is revenge for everything he has ever done to her in the future? There is no telling on Harley's mindset but it is apparent she is done being Joker's chess piece and toy.
And the question remains: Does the Joker simply cut his losses with Harley?
Somehow I have doubt. I think we will be seeing Mistah J again in the future.
Still I like Harley. I cannot wait to see her grow in this comic.