katara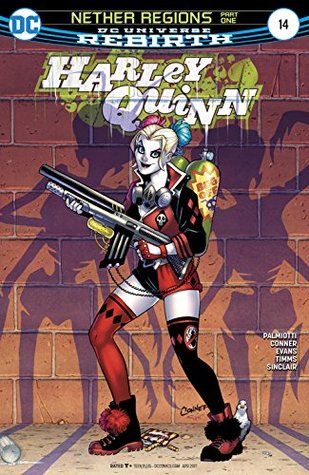 Title:
Harley Quinn (2016-) #14
Author:
Amanda Conner, Jimmy Palmiotti, Alex Sinclair (Illustrator), Khari Evans (Illustrator), John Timms (Illustrator)
Format:
Epub
Rating:
3.5/5
Status:
Finished
Reading Date:
February 25, 2017 to February 26, 2017
Book Summary:
"RED MEAT"! Red Tool lives up to his name and Poison Ivy drops by as Harley investigates what is happening to New York's disappearing homeless population!
Book Review:
Real Rating: 2.5
Normally I have enjoyed the Harley series but this one I just could not like whatsoever. Maybe it was the many storylines going. We had an organization at the beginning plotting something against the homeless. Then we have ant-like alien creatures bringing up some sort of God-like creatures cocoon only to have it open and turn on them, killing them all. And last but not least we have a new hero show up and take Harley on a ride to find that creature, only find it has found them.
Yet according to the blurb to this we were suppose to see Ivy but I did not see her anywhere in sight plus we were suppose to see a bit of Red Tool but correct me if I wrong but did I miss him? Did I miss Ivy?
I am still going to continue this series because I like Harley. I like how she has grown and changed since being the beginning of this series. Plus I want to see this new heroine and what she has to offer. Maybe she might stick around a bit. :D