katara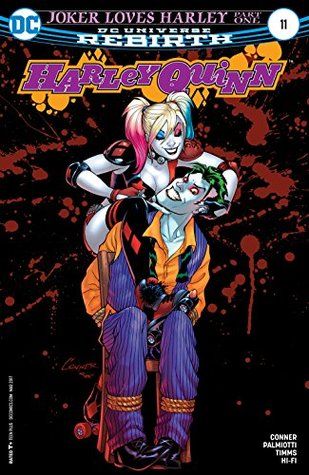 Title:
Harley Quinn (2016-) #11
Author:
Amanda Conner, Jimmy Palmiotti, John Timms (Illustrator)
Format:
Epub
Rating:
4.5/5
Status:
Finished
Reading Date:
January 04, 2017
Book Summary:
"JOKER LOVES HARLEY" part one! For months now, strange reminders of Harley's time with the Joker have been popping up in the most unexpected places…is this coincidence? Or a message? As our tale begins, Harley is introduced to a newer, kinder Joker…and Red Tool is not happy about it!
Book Review:
I am going to be honest and tell you that it is rare that I pick up anything DC (unless it is Wonder Woman) and even rarer if it is Harley Quinn.
But the cover to this one caught my eye. I have to say this one is simply stunning. There are no words to describe how pretty this cover is and if there are to be more covers like this then it might continue to pique my interest in the series (I'm a sucker for covers).
The story opens with the Joker having returned to Harley but Harley doesn't seem very happy to see him in the least. Perhaps she has reasons for this (as I have not read any comics between them) and though he seems to be sincere in his words, part of Harley (as well as myself) wonder what motives he has to be interested in her.
On top of that Red Tool is far less than pleased that Harley's former lover is back in the picture. I cannot say I blame him either especially with the history between the two of them. It makes one wonder what exactly Joker has come for Harley for. It always tend to be only when she is useful to him but I suppose we will have to wait until the next installment to find out.
I like Harley in this series. She is interesting and seems to be doing something that has made her much more of a hero than what she had been in the beginning of her life. She is carving something for herself but now things might be changing especially with the joker coming back into the picture. How Harley will handle this is really anyone's guess.
I think I am going to go back and look for the rest of this series and see what exactly has been going on with it.
All in all, I recommend this. I like this Harley and I think many will end up like this one too.